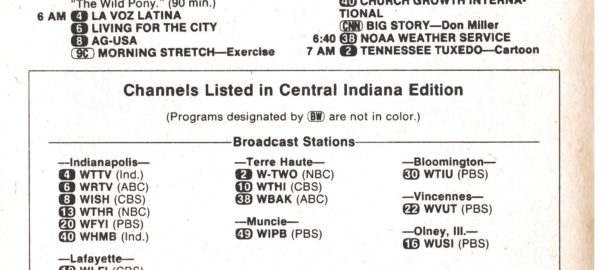 INNewsCenter is making with improvements to site and new features provided by Aeverine Zinn Holdings
EDITOR's NOTE: INNewsCenter is STILL owned by Aeverine Zinn Digital Media Group, the Digital Entertainment division of Aeverine ZInn Holdings.
MARION, Ind., April 12, 2018 / — Approaching 20 years in business, Aeverine Zinn Holdings, announced today it will be making changes to INNewsCenter's core features to coincide with the webmaster's move from Marion to Fort Wayne. With more services being added to INNewsCenter, in addition to the Classic INNewsCenter consumers know and love, the new features are very similar to Vintage Toledo TV and providing media publications as a community service to employees, staff, and consultants of all divisions and subsidiaries of Aeverine Zinn Holdings, as well as partnering with our sister site Vote for the Girls USA. INNewsCenter's revival in 2014 has been reinvented to give consumers more options of products and/or services—whether is viewing montages of station's newscast in the Classic INNewsCenter (as well as those posted by the station itself), a station's owner (via INNewsCenter's Safe Haven Act), posting images/video on INNewsCenter's web site and/or YouTube channel, and the Webmaster Ava Zinn herself is backing up with a guarantee.
"2019 will be my 20th year as a webmaster, and I am kicking it off with the most aggressive promotional campaigns to relaunch Aeverine Zinn Holdings as a transgender woman-owned, LGBT-owned and disadvantaged business after 20 years as a sole proprietorship. This campaign will be the biggest campaign in the history of Aeverine Zinn Holdings," said Zinn. "This is probably one of my biggest service introductions since reviving INNewsCenter."
The primary changes of INNewsCenter include:
INNewsCenter Safe Haven Act:
This feature mainly benefits the station's owner if in the event should a station's owner or station decides to file a DMCA complaint to claim copyright on INNewsCenter's YouTube Channel. After Scripps (owner of WRTV) and Gray Television (owner of WNDU South Bend) filed a complaint to FLNewsCenter in 2006, and a TVNewsTalk member posted a clip from WSBT, INNewsCenter decided not to post any material from WNDU and WSBT (and after 2012, WRTV after Scripps acquired the Indianapolis ABC affiliate). Furthermore, Ball State University–the owner of WIPB in Muncie filed a DMCA against INNewsCenter to remove WIPB clips right before the original INNewsCenter closed in 2011 (and probably another reason why the webmaster herself has decided to relocate from Marion to Fort Wayne).
Had the Safe Haven Act been in place at the time, the webmaster Ava Zinn herself would be more than happy to donate WIPB's clips from INNewsCenter's YouTube channel to WIPB's or a similar resolution.
Print Ads:
Another new feature now on INNewsCentrer you will be seeing is currently being on Vintage Toledo TV. These are print ads seen on TV Guide Magazine. local newspapers, etc.  The first page of the print ad gallery's page (whether it is from a broadcast station or a network–sorry national cable channels like ESPN, USA, etc are not eligible, yet local cable channels are eligible) will always be the station's best known logo or a logo crated by the webmaster herself (this is autographed as "Aeverine ZInn" instead of "Ava Zinn").
Visitors and fans of INNewsCenter can also donate print ads to appear on INNewsCenter as long as it is approved by the webmaster herself.
Additional new features are:
The creation of the INNewsCenter Magazine (this will only be in digital format only as the print format will not be feasible). Stay tuned for more information.
Two new INNewsCenter originals are "True News Anchor Story" and "Where Are They Now" that will be hosted by INNewsCenter webmaster Ava Zinn
And last but not least… The old INNewsCenter favorites such as newscast montages, Network or Station Intershows will still be on the YouTube channel. Additionally from time to time, as it has happened in March 2013 (with the death of Ashley Rheam) and during So You Think You Can Dance 11 (Valerie Rockey), The Voice 13 and 14 (Addison Agen and Christiana Danielle), have INNewsCenter's respective sister sites AvaZinn.com and Vote for the Girls USA to deliver coverage under the "As Seen on TV" on AvaZinn.com and the Indiana Landscape on Vote for the Girls USA. This is due to INNewsCenter, Vote for the Girls USA, and AvaZinn.com being under the ownership of Aeverine Zinn Digital Media Group's division of Aeverine ZInn Holdings.
Reinventing the INNewsCenter Brand, Services, and Products
"The fact is, as a webmaster I love television news and entertainment, but as times change, so do consumer tastes," said Ava Zinn, Founder and Webmaster of INNewsCenter. "I've relaunched INNewsCenter in 2014 to reflect what consumers are looking for. I'm not talking about the slightly-altered version of the previous INNewsCenter format. It's the INNewsCenter everyone knows and loves with original series, print ad galleries, that is reinventing INNewsCenter from the ground up, and we are proud of it. To us, it's as big as WTHR rebranding from "13(NBC) WTHR" to "NBC 13 Indianapolis." We spent the last four years reinventing the brand in anticipation of our 20th anniversary."
Zinn noted that almost 60 percent of INNewsCenter's Products and Services are new since closing down in 2011 and reviving the site in 2014. Added to the menu of services and products since that time:
Aeverine Zinn Digital Media (division of Aeverine Zinn Holdings)

Online

AvaZinn.com
Aeverine Zinn Holdings Press Releases Press.AvaZinn.com
News at News.AvaZinn.com
Indiana Weather Wall at Weather.AvaZinn.com (a former feature on INNewsCenter)
INNewsCenter at INNewsCenter.AvaZinn.com (this web site)
Vape Back! At VapeBack.AvaZinn.com
Vote for the Girls VFTGUSA.AvaZinn.com
Vape Bar & Grill Ava Zinn Official Web site at VapeGrill.AvaZinn.com

Media Production

Vote for the Girls
Vape Back! ()
Housing Hell
Retail Nightmares
"The cherry on the top of all these recent innovations to INNewsCenter is our newly-inspired YouTube channel," said Zinn. "Our inspiration came from the thousands of direct consumer feedback messages on several social media channels and other mediums over 20 years.
"Over a four-year period, we tested dozens of systems and formats while at the same time, researched every possible combination with visitors and fans who watch INNewsCenter on the YouTube channel all the time, fans who haven't watched us in years. Our extensive research showed that reviving INNewsCenter in 2014 is a significant improvement and more station owner-friendly over our previous format."
Putting The Money Where The Mouth Is
"Ava Zinn as an entrepreneur has long been known for service perfection," said Alexandra Moffitt, Secretary of Aeverine Zinn Holdigns. "With this new INNewsCenter we are convinced INNewsCenter can be known for both quality and service perfection. That's why Ava is introducing this new INNewsCenter with a guarantee: If you are not completely satisfied with your experience at any Aeverine Zinn Holdings venue, we will make it right or refund your money in the form of Aeverine Zinn Holdings credit.
"My entire staff at Aeverine Zinn Holdings, the personal and professional consultants I work with, my family and I have been involved in this," Zinn continued. "From yours truly Ava Zinn to my staff at all of my company as well as my retail and digital media divisions; from my products and services development team to my marketers — everyone has had a hand in reinventing our billing statement/receipts and relaunching Aeverine Zinn Holdings as an LGBT trans-woman-owned company."